Process version 2012 for your images
|
Post update on 14.Aug.2016
Process version 2012 for processing your images we're talking about Lightroom's process version 2012.
Introduction
Process version 2012 was introduced to Lightroom with version 4 and shows a couple of advantages concerning handling of bright light and shadow areas of your image compared to process version 2010 and older.
If you get into Lightroom with version 4 or newer you don't have to worry about anything, because images imported into Lightroom are already set to process version 2012.
Processing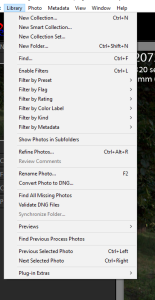 Taking pictures in RAW format you have to process your images, because at least you'll need a (moderate) sharpening of your images according to the publishing purpose (web or print). But also other parameter like white balance, contrast or saturation are worth to take a look at.
In the article [post id=282]Porcess your images again[/post] i talked about the capabilites of process verision 2012, which has a lot of potential on older and sometimes underestimated images.
Lightroom offers a search routine in 'Library' and 'Find previuos process photos' to find all images in your catalog with processversion 2010 and older. Too bad that there is no option to query the database or the metadata for that attribut and define a smart collection. Same situation with HDR or panarama images assembled in Lightroom 6. Adobe should allow this query for these special types of data. Would make live a bit easier 😉
Workflow
In the already mentioned article [post id=282]Porcess your images again[/post] i reported on the advantages of Lightroom process version 2012. Since there is no standard workflow i'll show you my workflow in a little video.
This is an example only how i process the majority of my images, so maybe it is a hint for you.
In most of the cases you need processing in Lightroom only. With good images i'll make a virtual copy and process it in Photoshop with [post id=585]luminance masks[/post]. Dependig on the results i decide which image to kepp in my catalog.
Conclusion
Lightroom's process version 2012 decreases the need to process an image in Photoshop and it is worthy to go thru your archive and take a look at older images.
It is too bad that the capabilites of the database or searchable metadata in [post id=958]Lightroom 6[/post] don't keep with the processing capabilites.
What do you think? Just leave me your comments and your questions.
ciao tuxoche