Lightroom development settings compare plugin
|
Sometime you are fascinated by a certain look of an image and you wish to get informations on how this look was done in Lightroom.
Lightroom development settings compare plugin
This question might occur if you're playing arround with Lightroom presets, which are available for almost any situation. A solution for this question is like most of the times a plugin for Lightroom. We are talking about the LrDevSettingCompare, plugin, which is available for free.
Installation
Installation has to be done manually by unpacking the downloaded zip file into Lightroom's plugin folder, which under windows is normally located in   C:\Users\[BENUTZER]\AppData\Roaming\Adobe\Lightroom\Modules . After that you just add the plugin with the plugin manager.hinzugefügt.
Usage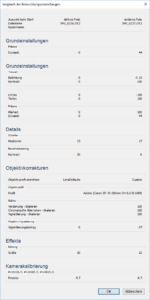 Basically you now choose 2 images and have the differences in the development settings between those 2 images listed by the plugin. The 2 images you'll choose can be either 2 physical images or what's more recommendable the imported image and a virtual copy of this image.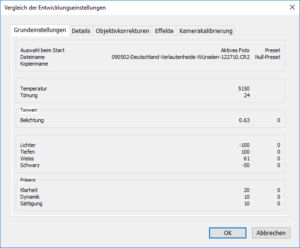 You'll get a pretty long list of all development settings from the 2 images you've choosed. To me this ia only clearly represented if you'll make a virtual copy of an image prior to any development changes or application of a preset.
In addition of comparing 2 images the plugin offers the ability comparing one image with a preset. You could define yourself a so called Null Preset, where all development settings are set to 0. If you'll define this in the configuration of the plugin, you'll be able to choose one image only and compare it the settings of the preset.
Of course the plugin only compares global development changes. Local changes like a graduated filter or correction brushes can't be listed with the plugin.
Conclusion
The plugin was developed exactly for the purpose to compare development settings changed by a preset without clicking thru all the panels. It surely isn't a plugin to keep active all the times, but if you're playing arround with presets you might appreciative the compact comparism list offered by the plugin.
What do think about this plugin? You're welcome to drop a comment or place a question.
ciao tuxoche