Rendering timelapse with Panolapse
|
I alread posted on Timelapse shootings, for instance the article about the [post id=129]timelapse recording technique[/post].Now there is a relativly new tool availabe, so i tried it out.
Introduction
The tool we're talking about is Panolapse, which popped in some discussion concerning the topic rendering timelpase sequences to a video movie. Since there is a free of charge trail version available i gave it a try. The trail version is limited to output videos with a maximum resolution of 1280x720px.
Usage
The program is pretty intuitive. Because of the limitation in resolution and since there is further limitation for the tool RAWBlend to 30 images i decided to use JPEG images. I shot a test sequences with 200 images with a Canon 7D. The images were exported in full resolution and imported into Panolapse. Handling and the speed of the preview were good.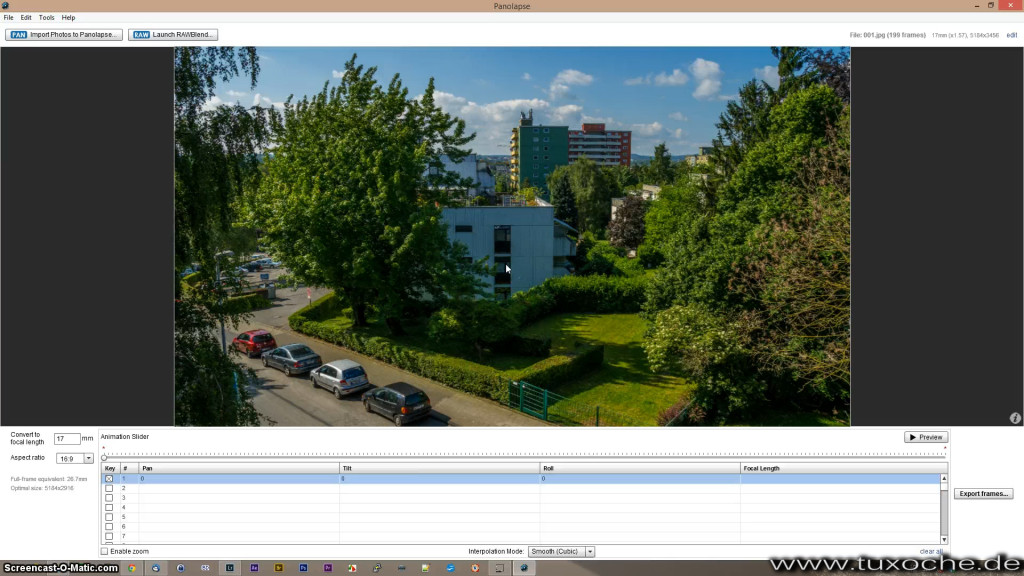 But take a look yourself:
Conclusion
The limitation to 1920x1080px even in the licensed version is definitly not state of the art. The order page doesn't clearly define that buying a license will include future update or a possible requirement to update on every major version.
Tools like LRTimelapse or even TLTools, the later is free of charge, offer more possibilities, especially regarding output resolutions. Since more TV-screens offer higher resolutions there is need for this.
If you render timelapse videos from RAW files, like i do, there is a strong binding to Lightroom, because to eliminate small exposure differences the metadata are changed before exporting the RAW files. Considering this i place Panolpase mainly because of the resolution limitation only on rank 3 comapred to LRTimelapse or TLTools.
What do think about Panlapse? I'll be glad to hear from you in the comments/suggestions, and questions are welcome too
ciao tuxoche