Luminar 2018 Jupiter Update
|
Post update on 20.Feb.2019
Arround 2 weeks ago the new Luminar update 2018 called Jupiter was published by Skylum with a lot of advertisement expense. I did take a locser look on the new version.
Introduction
With the update for Luminar 2018 to version 1.2.0 or Jupiter like its named by the msoftware company Skylum is a free of charge updaate and promises a tremendous improvement in performance and further improvements (Actually there 2 updates, the second update to build number 1886 was probably done because some users experienced some problems during the update process) . Of course Skylum advertises with the new update for Luminar 1.2.0 there is no subscription model like with the competitor program Lightroom. The program costs 69,– € and is available both for Mac OS and for Windows. The price is fair but the question about charged updates must be answereand changesd.
In contrast to the last update the update process on my Windows 10 systems worked without any problems and after starting the program you'll notice the first change, the batch processing. But let's talk about this one later on in this post.
Improvements
Besides the improvements in performance which will be handled later, Luminar 2018 1.2.0 comes with a slightly changed RAW processing compared to the last version. This includes automatic handling of chromatic abberation and lens distortions with one mouse click. Just in case these corrections lead into white image portions they can be cut off in the processed images automatically.
Basically these new functions work very good, but i searched for documentation which lenses are supported by the new functions.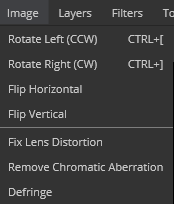 In addition there is a new menue item for the image where you can rotate the image in both directions or flip the image both horizontal and vertically. In this menue you can also correct chromatic abberation and lens distortions.
Applying lens corrections to a fish-eye image doesn't result in an image where the fish-eye effect is completly vanished.
According to Skylum the raw converter was improved in general to get better results out of your raw images. I just made a comparism for the 2 software versions.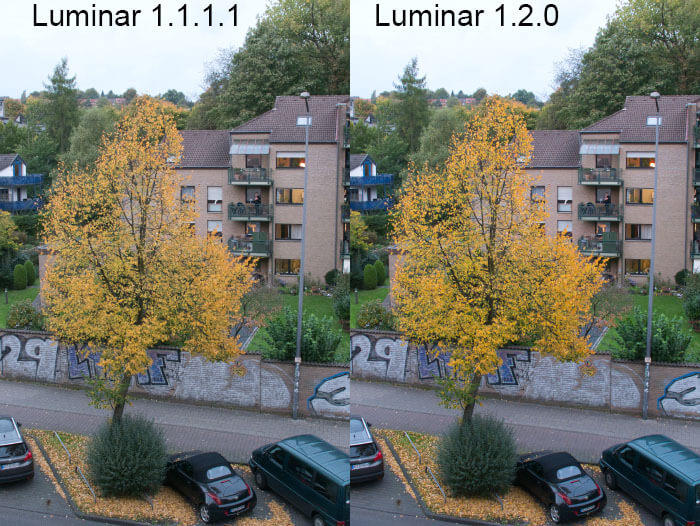 Maybe you'll notice a little bit more contrast and saturation in the new version.
Batch processing
With this new version Skylum introduced the batch processing but lets take a look on this functions with a number of images.
After loading the seclected raw images the program presents the following dialog, which only allows to apply presets to the selected image and exporting these images as JPEG/TIFF to a defined folder. Too me this enough for a batch processing, in particular if we compare this function to the main competitor Lightroom
Speed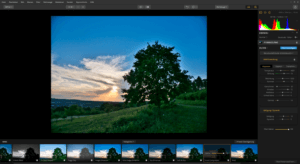 With this update Skylum indicates the speed gain for processing raw files. In my blog post about the last version criticized the time needed to load a raw file before you're able to apply any development setting. I did a comparism between the last version and the new version 1.2.0 on a AMD Ryzen system. Even hand measuring these times is not absolutly accurate i could state a difference of only 1 sec or in other words from 6.5 to 5.5 seconds on my system. And exporting a raw file to 16 Bit tiff i determined an improvement from 6 to 4.5 seconds. This means there is an improvment but its not enough to compete with Lightroom.
Very comfortable is the faster reaction on the rulers, there is almost no dealy before the changes are visible.
Conclusion
Overall there are not many improvements and even with the (minimal) gain in speed for loading the raw files Luminar 2018 version 1.2.0 still is a little bit slow. The batch processing functionalty is not very productive because of the limitations. Imagine to do lets say a 100 images from a timelapse sequence.
Implementing the profiles in the Windows version like you know them from Lightroom in another update promised to come in june seems to be strategic. Why are those profiles implmented in the Mac version. Until now Luminar 2018 doesn't come up to the expectations but the program is on the right way.
ciao tuxoche