Last week review 02-2016
|
Last week review 02-2016 and winter is coming, and i don't like that 😉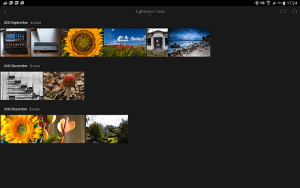 In this weeks article we took a look on Adobe Lightroom Mobile which is freely available since version 1.4. You don't need a cloud subcription to use Lightroom mobile on your Android smartphone or tablet.
But Adobe's mobile Lightroom has a couple of limitations concerning file formats which can be added to a collection. Besides Adobe own DNG format only JPEG files can be added. Other raw files like from my Canon 5D MK II can't be processed in Lightroom mobile with the exception that raw files from my Lumix G6 can be processed.
Working with a Canon or other major brand cameras you won't be able to start image processing on the tablet first. With theses files you have start an import in the desktop Lightroom version. After synchronisation images can be processed with a tablet.
The processing tools are more than sufficient to process an image and share it on social networks or to do a startup processing and go further on with a regular Lightroom version on  a desktop pc.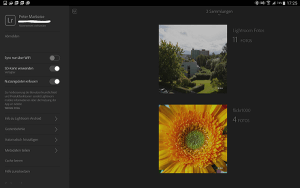 I expect or hope Adobe to change this in the further development of the app, because other apps prove that raw processing on a tablet is possible. And i showed that it should be possible to backup your images if you are on a vacation or something like that and post the first images from your images in social networks or mail them via whatsapp or you name it.
Beginning with the new year i changed the wordpress theme for this blog, which allows featured images to be displayed as a thumbnail on the overview page.


But with the new theme i missed the opportunity to display the modification date in update articles like it was displayed in the old theme to inform the reader about the status of the post. But i found a tutorial (sorry german) which was very helpful to me to display the modification date. Now i'm looking for a piece of code to include updated posts in the RSS feed.
An eventful week and i  hope that some of the articles on this blog gained your interests and i look ahead to your comments/suggestions. And don't forget, i installed a feed for you via feedburner .
ciao tuxoche