Lightroom 6 finally released
|
After many and even conflicting rumors Lightroom 6 was released yesterday. In this article and the video we want to get a first impression.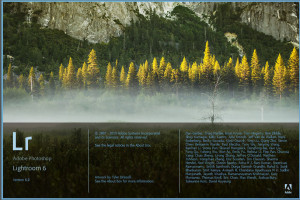 After the first rumors about the new version to be relased an march now it is available. Everybody worrying that the new version would be available in a subscription modell only can calm down. You can buy and download either a full or an update version just like the older version, even though this version doesn't include the mobile functions introduced in version 5.
Installation
After buying Lightroom 6 in the online store you'll get a new license key via email. Like usual with update versions you have keep you license key for your Lightroom version 5 or older which is requested during installation process.
After starting Lightroom first the catalog is converted to fit the new version, like additional database definitions for the face recognition.
First impression
To get a first impression i installed Lightroom on my laptop first, but maybe you'll take a look at the video first.
My first impression is that Lightroom did speed up a little bit, but i'll report on this in a later article, after installing Lightroom 6 on my desktop PC.
First conclusion
I'm still wondering why Adobe release the new version without a public [post id=940]beta testing[/post]. The panorama function is pretty slow and both the panaoram and the HDR function will have a [post id=514]DNG[/post] as a resulting image file.
Looking at the panorama function Adobe didn't do a good job, because the function is quite slow and seem to run into problems with images taken with a fisheye lens.
You have decide yourself if the face recognition function is worth a buy or an update, but the other function like HDR and panorama don't require an update since there is [post id=292]SNS-HDR Lite[/post] is available for free and panorams can be stitched with the open source program Hugin.
Probably the only thing left may be a gain in speed using the graphical processor for people processing a lot of images.
What do you think about the new Lightroom 6 version? I like to see your comments and questions are welcome too.
ciao tuxoche