Canon 10-18/4.5-5.6 IS for APS-C Cameras
|
Post update on 21.Sep.2014
One of the most used lenses with the Canon 5D MK II is the 17-40/4.0 L, because beides of panorama shots i do a lot of architecture and landscape photography. For the 7D, which is used mainly for timelapse and telephoto shots, i own only the Tamron 2.8/17-50mm.
Sometimes i had the wish to use an UWW lens on the 7D . Earlier i owned a 10-22/3.5-4.5 lens, but this lens has a pretty high price tag for being used only once in while.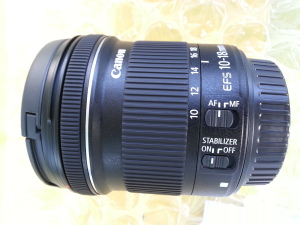 But the Canon announced the 10-18mm lens with a very affordable price arround 300,– €, but the disadvantage was, no one of the local store or even in the internet the lens was not available. But yesterday i saw that this lens was available in a store nearby, what a happy coincidence. It did cost a little bit more, but whats the use of a very cheap offer from an internet dealer, which doesn't have the lens in stock.
The lens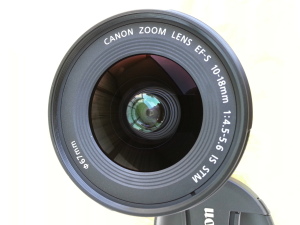 The lens offers a focal length range of 16-29mm talking in full format focal lengths, weighs 240 gr. only and offers IS and the relativly new STM focussing especially for video catptures, if you have a camera body offerings STM capability.
Unpacking the lens, first you'll notice the lightness of the lens and you'll right think in categories like cheap and plastic and so on. The lens tube and the mount are manufactured with plastic, but you don't get the feeling that you bought a cheap lens.
Saving weight compared to the 10-22/3.5-4.5 UWW is forced by reducing the maximum open apartuere to 4.5.
First impression
Of course i did a couple of test shots just right away after i got home, to get a first impression on the optical capability. And my first impression is positive, although the lens has to fight with loss in sharpness in the corners, just like the 17-40/4.0 L lens, but too me the 10-18mm is not worse compared to the L lens. But i'll make a more exact comparism later on. Photozone tested the lens and resulted in a positive benchmark.
You'll notice chromatic abberations, but the are correctable pretty good, because Lightroom 5.6 offers a lens profile for the Canon 10-18mm since version 5.6.
Talking about the pictures, they are examples only and no test. The distance scale is missing completly, but this should be ok, because most of picture will probably be taken in AF mode. But even taking a couple of example shots only, i found the IS very helpfull, because i could take picture with an exposure time of 1/10sec. And according to this [post id=261]article[/post] i didn't close the aparture more than f 7.1.
Meanwhile i tried the lens in combination with a polarizing filter. I use all my filters with a diameter of 77mm and a step-up ring. I use a Hoya Pro Digitial Slim filter an even with the stepup-ring and a focal length of 10mm there is no vignetting.
Now i'm considerung to try an experement for may vacation, taking only the 7D, the 10-18mm, 40mm/2.8 pancake (alternative 17-50/2.8 Tamron) and the 100mm Macro lens, because most of the picture should be taken with the wide angle lens. But i'm still desciding 😉
What do think about this Canon UWW lens. Is it an alternative to the double priced 10-22mm/3.5-4.5, even considerung that there might be a loss of absolute sharpness? I'm looking forward to your comments and opnions.
ciao tuxoche