Reducing JPEG image size
|
Photographers have a strong interest to reduce image size for presenting their photos on the web, but the quality must be kept.
The reasons for reducing the image size are different. Sometimes there is an upload limit, reducing space on your self hsoted website or upload speed. So there are many reasons, despite the fact of internet flatrates or faster internet connections.
I upload my photos to my website Website, Google+ or flickr in JPEG format, which are exported from the raw originals via Lightroom, setting the output quality to 85. Depending on the camera used and the amount of details the image size ranges from 3.5 to 6 MB.
Searching the internet for possible to reduce the image size further, you'll probably sstep into this blog about compressor.io . The article in the blog and compressor.io itsself claim to reduce the size of an image up to 90%. That would be a great 😉
But first of all i made a comparison with the different Lightroom output options.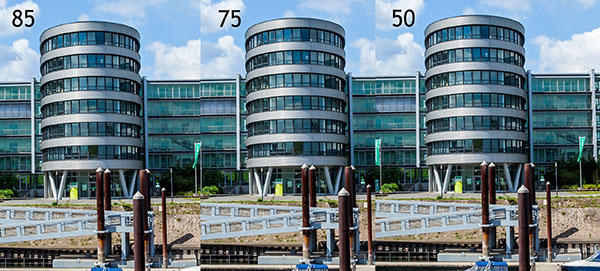 I'll took a recent shot from my Canon 5D MKII and exported the image with different JPEG qualitiy settings and assembled 100% crops with Photoshop to one image. The resulting image size from left to right are 8.635, 4388 and 2.478 KB. Comparing this image in original size there is no visible difference between the 85 and 75 quality setting, and even the 50% qualitiy setting is ok viewing on a Dell U2711 with a screen size of 2560×1440 pixels. Regarding the fact that there a no displays with an image size of 5616×3744 pixels, so the image is displayed in a reduced size, even the quality setting of 50% is ok.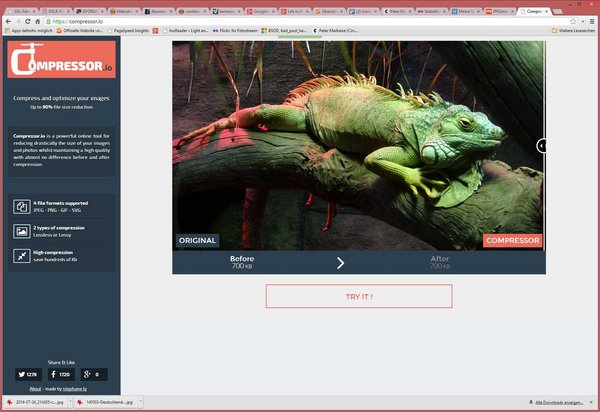 But now lets take a look at compressor.io, which is a webservice. You have to upload your image via a browser, and after compression is ready you can download the resulting image or save it to Google drive or dropbox.
Handling is easy, but what are the results? Uploading the above image in the 85% qualitiy resulted in an image sized 3113 KB. This ia na reduction of 64%. The resulting image is still bigger than the direct Lightroom export with a qualitiy setting of 50%. . Uploading the image with the 50% qualitiy setting results after compression in an image, which is only 51 KB smaller.
I didn't expect miracles but i don't understand the reasons, why compressor.io is judged so positively. Cused by thsi results i did'nt even try JPEGMini. But even i don't have a tool like Lightroom you can reduce the size of you JPEG images with Irfanview or you'll use Faststone Image Viewer, which has a batch mode built in.
What do you think about these tools, or do you have any experiences? I'm looking forward to your comments.
ciao tuxoche