Last week review 29/2014
|
Last week review and the weather is pretty hot this weekend .. at least summer 😉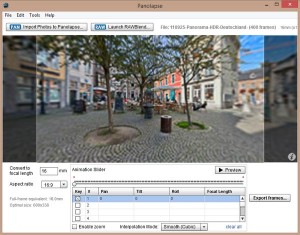 This week i only published one [post id=476]article[/post], introducing an alternative to After Effects, rendering 360×180° panoramas to video. The tool is called Panolapse, which i already introduced in my [post id=434]article[/post] about rendering timelapse sequences.
With panolapse you can pan through a panroma and the result can be exported to a video file. But panolapse seems to have a bug, a fully 360° pan thru a panorama is not possible, because after 300° or so the movement begins to run backwards :-(. If you can live with this bug, panolapse is sure an alternative to Adobe After Effects, since the price tag is only about 80$, especially if you use the tool for timelapse rendering.
Sine there is the new version 1.172 release these days, there is hope, that this bug will corrected in a future version.
So it was an interesting week and I hope that some of the articles on this blog gained your interests and i look ahead to your comments/suggestions and of course for the next six month. And don't forget, i installaed a feed for you via feedburner. So have i nice weekend, til the next time
ciao tuxoche
[tags]Panolapse[/tags]