Microsoft Image Composite Editor and panorama
|
Microsofts Image Composite Editor was published in version 2.0.2 not long ago, so that is reason enough to take a closer look on this software.
Introduction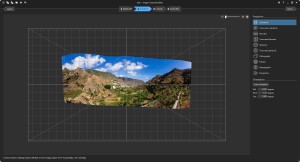 Microsoft Image Composite Editor (ICE) was published in february in version 2.0.2 after a long period of standstill. ICE is knwon as a pretty fast software to stitch panoramas, but i didn't use it, becausethe older versions had no opportunity to export the stitched image at least in TIFF format for further image processing.
Installation
An MSI installing the ICE is available both for 32 and 64-bit systems. The installation itsself runs without any problems and ICE is hooked into the explorer context menu.
Usage
ICE main use is to stitch panorams. New is a feature to stich a panorama from a video file, didn't try this one because i don't have enough video base material..
But take a look at the video:
ICE is realativly fast, at least faster than the open source software [post id=335]Hugin[/post], but this you'll buy with the disadvantage that ICE is not the right software for 360×180° sphere panorams. ICE lacks the option to [post id=335]mask[/post] out persons or the tripod, like it possible with Hugin or PTGui, with a additional nadir shot.
Conclusion
ICE is the faster software compared to Hugin and offers an export of the stitched panorama either as 16-Bit TIFF or as Photoshop PSD file to process the image further in Lightroom or Photoshop. Even you're capturing one or multiple row panoramas either free hand or from atripd with a NPA everything is fine. If you want to get in sphere panoramas there is no alternative to Hugin (free of charge, but slow) or PTGui (costs but is faster)
What do you think about ICE? Are you using this software or did you try it out? Just leave me your questions in the comments.
ciao tuxoche